Hundred and Twelve
5:06 AM
Hi babes! I am back to share with you....
So I was tasked to dream big and talk about my dream date!! Hehe.
To be honest, I am a girl who prefers quality time i.e. talking to one another and doing things together so my dream date will definitely be having a good dinner together!

But...since I am allowed to dream big (hehe) I shall dream super big and imagine that my dream date will be at....

MALDIVES!!!
Okay I have seen sooo many pictures of Maldives and I really love how beautiful the scenery and beaches are, so Maldives it shall be!
I am a born romantic, hence a candle light dinner for 2 beats having to dine with the rest of the diners at the restaurant anytime. I feel that it's more private and you can talk about literally anything without having to worry about other diners hearing your conversation.
To show you how romantic Maldives can be, here's a walkway on the beach!
I remember Glen and I taking the coogee-bondi walk in the morning once and it was really romantic hehe. :)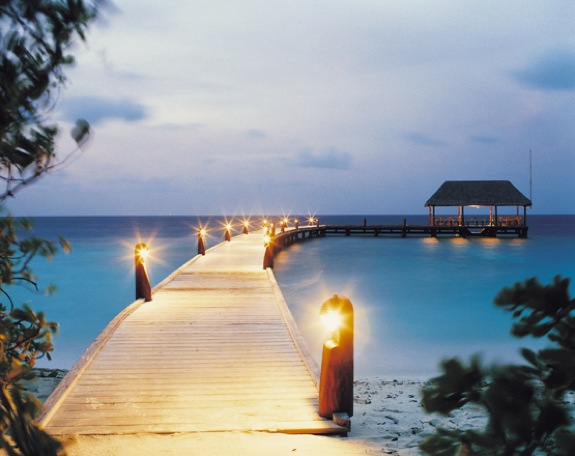 My dream date will also include a bouquet of flowers!
Haha I know how most girls claim that they don't like flowers, it's a waste of money etc. but every time they are surprised with one, they'll be super happy!
Similarly for me, I'll be touched and surprised by the flowers too! ;)
The other day Bree was exclaiming how expensive flowers are, because 1 bouquet of roses can probably buy 1 balenciaga bracelet etc.?
But..it's the thought that counts!
And I am pretty sure my sis will be secretly happy if she receives a bouquet of roses from Mel one day!! *hint hint to Mel*
I don't know about most girls, but for me, I'll like my man to smell good. Imagine your dream date going all perfect with the ambiance, food, company...and then you realize that eww someone smells really bad. It'll be a major turn-off right?!
Glen knows that and he'll spray cologne when we are going out!
I also remember on our first official date, I was thinking that this guy knows how to impress because he definitely sprayed cologne hahaha. :p
What better cologne than one that is tailored to impress?
Gucci's newest fragrance, Made to Measure, will add the final touches to my dream date!
This fragrance is inspired by the look and feel of a handmade suit, with accords of Tunisian orange blossom, French lavender, aniseed and Calabrian Bergamot. The scent is a little more towards spicy and fresh, which will be perfect for your man because well I believe almost all girls like their man to smell clean shaven and fresh!
If you are wondering what the ingredients are, I have managed to find some images for reference below! :)
Tunisian Orange Blossom.
French Lavender.
Aniseed.
Calabrian Bergamot.
At first glance, the perfume bottle definitely looks stylish on its own! Each bottle also bears a hand-brushed and individually finished solid metal cap in an exclusive gold color, with the color scheme being their distinguised slate and pearl grey - similar to those of a suit and shirt button.
A perfume is merely a silhouette on its own, and will only become something more when it is worn on someone. Hence, this perfume will complete my dream date because when the fragrance combines with the warmth of the skin, the Made to Measure man's character, it will result in a luxurious and stylish scent will that will impress upon you and leave you wanting for more. :)
Gucci's Made to Measure is now available at all major retail stores, so if you are thinking of getting a gift for your other half, this is a good chance to try out something new! ;)
Enjoy your weekend babes and be sure to dream big with Gucci's Made to Measure Fragrance!